About Le Cheminant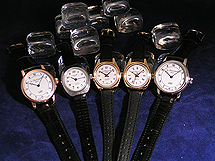 Le Cheminant watches have been in production, continually, since 1822, hence the use of the 1822 on the dials of many of their watches.
The translation of Le Cheminant means 'The Wanderer'.

Le Cheminant's head office is currently based in Surrey, though their manufacturing factory is still very much in Switzerland.
Contact us for more info:
01372 210495 | info@lecheminantswisswatches.com | Le Cheminant, PO Box 150, Ashtead, Surrey KT21 9AZ